MicroK12's FREE Education Conference is Almost Here!
Sep 21, 22
---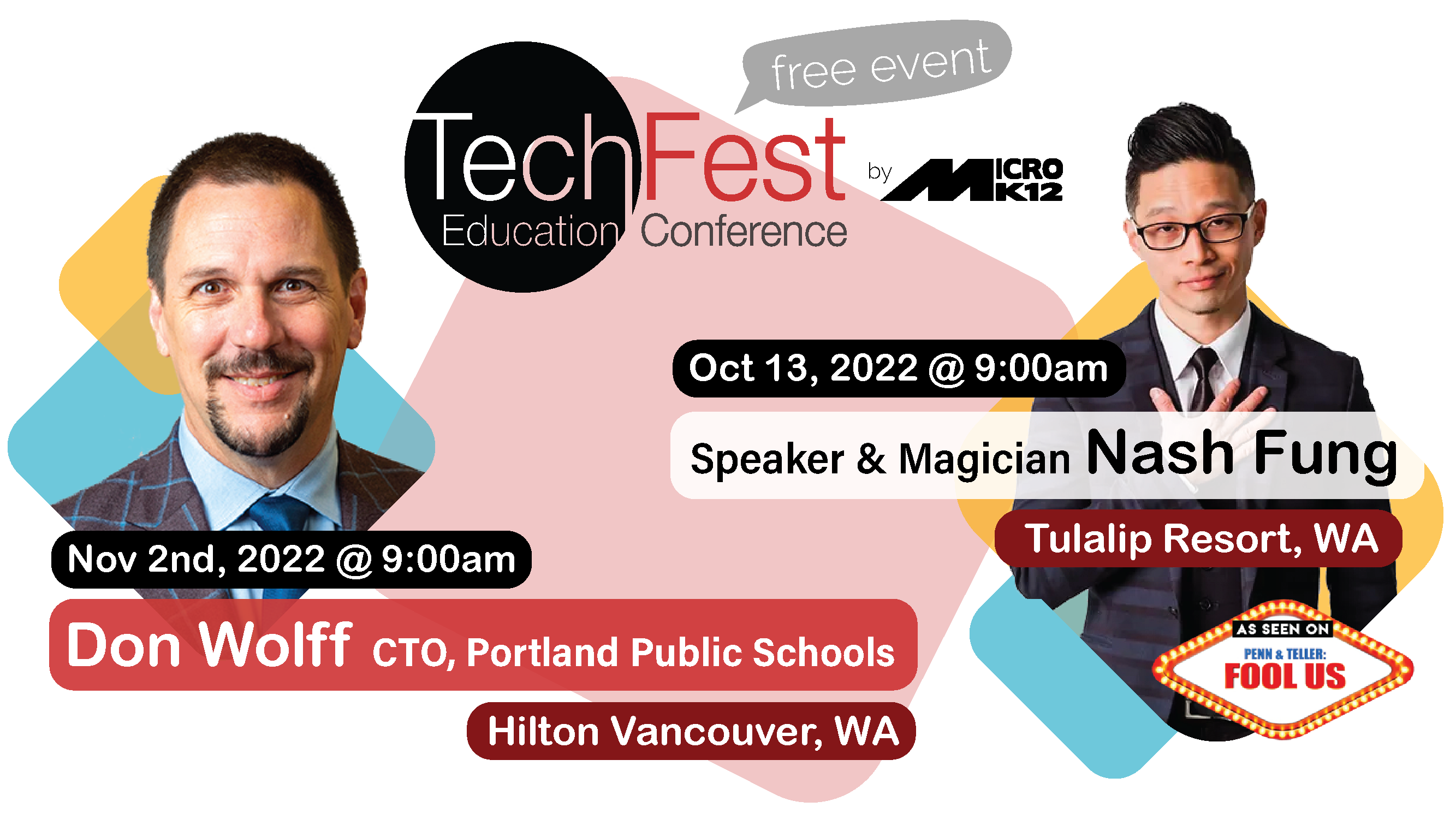 Attend MicroK12's FREE Education Conference - TechFest!
Seattle and Vancouver WA, and Online
October 13 and November 2, 2022

WSIPC is proud to support our WSIPC Purchasing Program partner, MicroK12, at their 11th annual TechFest conference.
You won't want to miss this event - school districts will present sessions on various topics including device deployment, new funding, district best practices, networking, and security, and you can attend FOR FREE!
Stop by our WSIPC booth at TechFest and learn more about the products and services available through our WSIPC Purchasing Program.

About MicroK12
Through our WSIPC Purchasing Program, MicroK12 offers a wide range of Computer Software, Licenses, and Services, including Advanced Threat Protections (Sophos), Classroom Management (Google), Content Filtering (Linewize), Safe Digital Learning for Schools (GoGuardian), Web Filtering and EdTech Solutions (Lightspeed Systems), and Web Filtering and Student Safety (Securly). Click here to learn more.
Through this program, MicroK12 also offers Computer Hardware and Equipment from a wide variety of vendors, including Google, Logitech, Samsung, Viewsonic, and more! Click here to learn more.

About WSIPC's Purchasing Program
Each vendor who becomes a part of WSIPC's Purchasing Program has been awarded a bid contract through an official RFP process in compliance with Washington State Procurement RCWs. For a full list of available product and service contracts, check out the Purchasing page on our website.
MicroK12 is an awarded vendor of WSIPC RFP 21-01 Computer Software, Licenses and Services, and WSIPC RFP 20-01 Computer Hardware and Equipment.
For more information about WSIPC's Purchasing Program, contact WSIPC at info@wsipc.org or 425-349-6600.

WSIPC is a non-profit public agency that provides technology solutions, services, and support to K-12 schools. WSIPC's purpose is to help schools do more with every dollar and to empower them with the tools to work smarter. To learn how your district can become part of the WSIPC Cooperative, contact us at info@wsipc.org or 425.349.6600.
WSIPC. Inspired by education. Empowered by technology.TM
---