Building Maintenance and Security - Play the LONG Game!
Feb 01, 23
---
Building Maintenance and Security
Play the LONG Game!

Our WSIPC Purchasing Program partner LONG Building Technologies is the newest awarded vendor of WSIPC RFP 22-05 Managed Security and Physical Security Solutions.
LONG specializes in security system solutions and building automation solutions, from before your project breaks ground through the life of your building.

Security System Solutions
LONG specializes in a full range of customizable security solutions, including:

Security system consultation and design
Access control
Video management systems
Electrified hardware application and design
Security solutions network consultation and design
Watch this video to learn more!
Building Automation Solutions
LONG is there to help you plan, execute, and maintain your facility. They specialize in:

New construction
Upgrades and retrofits
Installation
Service, maintenance, and repair
Building analytics
Building automation system design
System integration
Mechanical system optimization
Lighting upgrades
Financing options
Watch this video to learn more!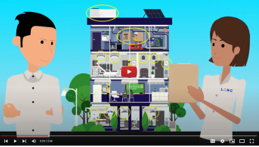 LONG Live Your Building!
Contact Jim Jamison Jr. (jjamison@long.com / 206-300-1503) and reference WSIPC RFP 22-05 for contract pricing.
About WSIPC's Purchasing Program
Each vendor who becomes a part of WSIPC's Purchasing Program has been awarded a bid contract through an official RFP process in compliance with Washington State Procurement RCWs. For a full list of available product and service contracts, check out the Purchasing page on our website.
LONG Building Technologies is an awarded vendor of WSIPC RFP 22-05 Managed Security and Physical Security Solutions and WSIPC RFP 18-05 Facilities Solutions.
WSIPC is a non-profit public agency that provides technology solutions (including SMS 2.0 and Qmlativ), services, and support to K-12 schools. WSIPC's purpose is to help schools do more with every dollar and to empower them with the tools to work smarter. To learn how your district can become part of the WSIPC Cooperative, contact us at info@wsipc.org or 425.349.6600.
WSIPC. Inspired by education. Empowered by technology.TM
---