WSIPC Partners with D2L to Modernize Learning for More Than 700,000 Learners
Mar 23, 17
---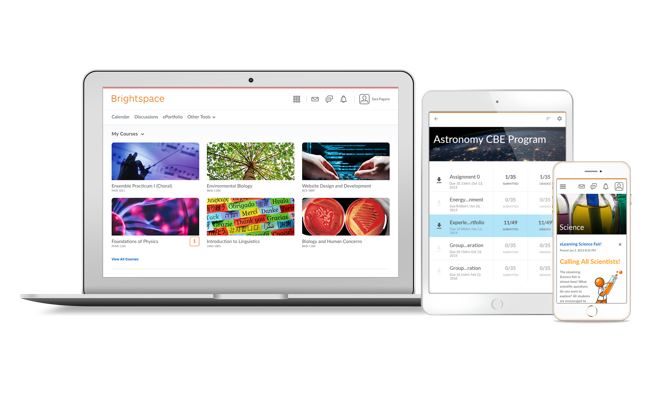 WATERLOO, ON—Today, the global learning technology leader announced a partnership with WSIPC to reach and engage almost three quarters of a million learners.

WSIPC members can now choose D2L's award-winning Brightspace learning management system (LMS) to deliver a modern learning experience that reaches, stimulates and engages every learner. The platform will be available to members at a pre-negotiated cost, allowing them to bypass the burden of a complex and time-consuming RFP.

WSIPC is a public non-profit cooperative that provides K-12 public and private schools in Washington, Oregon, Idaho, Montana, and Alaska with technology solutions, services and support. Nearly 730,000 students across 280 school districts and more than 1,500 schools rely on those services.

"Schools today are finding it increasingly difficult to keep up with the lastest technology," said Marty Daybell, WSIPC executive director and CEO. "Through this partnership with D2L, our member schools will gain access to its cutting-edge Brightspace platform – completely transforming the learning experience for hundreds of thousands of children."

"K-12 learners represent our future, and we can no longer saddle them with learning tools from the past," said John Baker, CEO of D2L. "Through this partnership with WSIPC we can deliver the modern experience learners expect, keeping them engaged, energized and eager to grow."

ABOUT WSIPC
WSIPC is a non-profit cooperative empowering schools with a powerful lineup of technology solutions. WSIPC is the exclusive provider of Skyward K-12 products in Washington State and delivers enhanced software services to Skyward users in Alaska, Idaho, Montana, and Oregon. Learn more at wsipc.org, download the WSIPC App, and follow us on social media.

ABOUT BRIGHTSPACE
D2L's Brightspace is a learning management system (LMS) that helps schools and institutions deliver personalized learning in a classroom or online to people anywhere in the world. Created for the digital learner, Brightspace is cloud-based, runs on mobile devices, and offers rich multimedia to increase engagement, productivity and knowledge retention. The platform makes it easy to design courses, create content, and grade assignments, giving instructors more time to focus on what's most important – greater teaching and learning. At the same time, analytics reports track and deliver insights into the performance levels of departments, courses, or individuals.

Brightspace was recently named the #1 LMS in Higher Ed by Ovum Research and #1 in Adaptive Learning by eLearning Magazine. In addition, Aragon Research included Brightspace in its highly-coveted Hot Vendors In Learning list.

ABOUT D2L
D2L is the software leader that makes the learning experience better. The company's cloud-based platform is easier to use, more flexible, and smart. With Brightspace, companies can personalize the experience for every learner to deliver real results. The company is a world leader in learning analytics: its platform predicts learner performance so that companies can take action in real-time to keep employees on track. Brightspace is used by learners in higher education, K-12, and the enterprise sector, including the Fortune 1000. D2L has operations in the United States, Canada, Europe, Australia, Brazil, and Singapore. www.D2L.com/brightspace.

PRESS CONTACT
Virginia Jamieson, Vice President of PR and AR, D2L Ltd., 650-279-8619, virginia.jamieson@D2L.com or Laura Wooster, Lightspeed PR, 202-681-4010, laura@lightspeedpr.com
Twitter: @D2L

© 2017 D2L Corporation.

The D2L family of companies includes D2L Corporation, D2L Ltd, D2L Australia Pty Ltd, D2L Europe Ltd, D2L Asia Pte Ltd, and D2L Brasil Soluções de Tecnologia para Educação Ltda.

All D2L marks are trademarks of D2L Corporation. Please visit D2L.com/trademarks for a list of D2L marks.
---