WSIPC Executive Director Transition
Jan 18, 23
---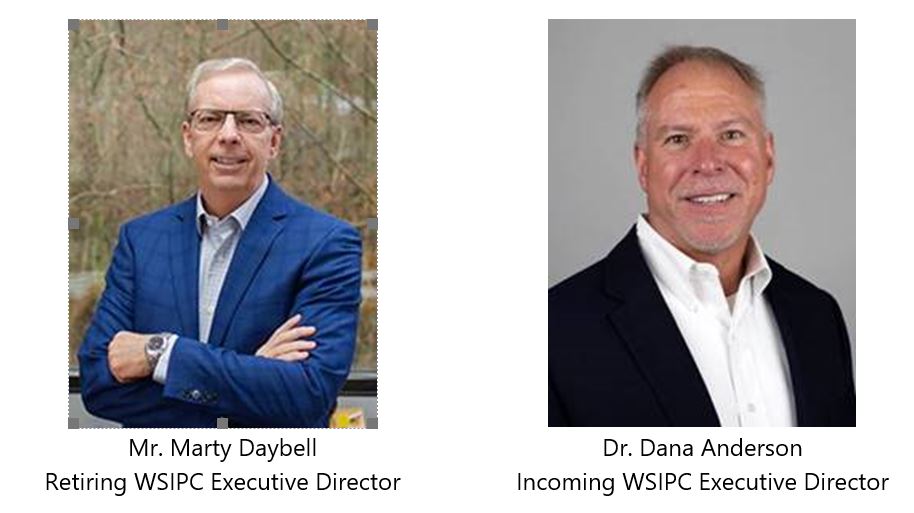 It is with mixed emotions that we announce the retirement of our Executive Director, Marty Daybell, after 17 years of dedicated service to the WSIPC Cooperative.

Dr. Dana Anderson, our WSIPC Board Chair and Superintendent of Capital Region Educational Service District 113, has been selected to replace Mr. Daybell as WSIPC Executive Director.
"I am grateful I've had the opportunity to work with such a wonderful organization and to have been a part of a very dedicated and talented team," Mr. Daybell said. "I have thoroughly loved the mission and the people I was blessed to work with, and I am confident WSIPC is in good hands with Dr. Anderson. I wish the Cooperative continued success in the future."
Dr. Anderson has worked at ESD 113 for 22 years. Initially hired as a school improvement specialist in 2000, he worked his way up to superintendent, a position he has held for the past 10 years. "I am eager to build on WSIPC's track record of excellent service and increase the partnership within our state's ESD network," stated Dr. Anderson. "With its position as the country's largest publicly owned K-12 data processing cooperative, I believe it has the potential to dramatically influence systemic reform and remove barriers to student success."
"The WSIPC Board of Directors is confident that the appointment of Dr. Anderson presents the best opportunity for the continued success, growth, and viability of the Cooperative on behalf of all member districts, clients, and partners," said Larry Francois, Superintendent of Northwest Educational Service District 189 and WSIPC Board Vice-Chair. "We look forward to working collaboratively with Dr. Anderson in this new role and are deeply appreciative of Mr. Daybell's many years of exemplary service and his commitment to a smooth and thorough transition to new leadership as he contemplates a well-earned retirement."
Dr. Anderson will begin serving as WSIPC Executive Director on July 1, 2023, and will engage in a 3-month transition process with Mr. Daybell from July through September 2023. Mr. Daybell will retire at the end of September 2023.
---