Three Washington Teachers Announced as STEM Award Finalists!
Mar 12, 21
---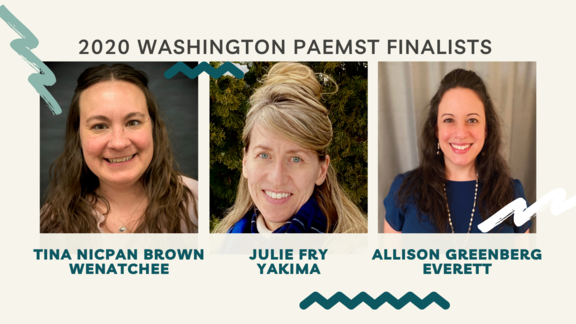 Three elementary science teachers in Washington have been selected as state-level finalists for the 2020 Presidential Award for Excellence in Mathematics and Science Teaching (PAEMST), the highest honor bestowed on science, technology, engineering, mathematics (STEM), and computer science teachers.
"We are living through a once-in-a-century global event that will inform how we engage with science for generations," said Superintendent of Public Instruction Chris Reykdal. "Our schools are shaping the vaccine researchers and public health experts of tomorrow, and it is thrilling to see teachers like Julie, Allison, and Tina embrace this moment."
The state-level finalists are:
Allison Greenberg, K–5 STEM Coordinator, Woodside Elementary School, Everett School District
Julie Fry, First Grade Teacher, Roosevelt Elementary, Yakima School District
Tina Nicpan Brown, Fifth Grade Teacher, Lincoln Elementary, Wenatchee School District
The finalists were selected by a statewide selection committee comprised of content area experts and award-winning teachers.
Congratulations Allison, Julie, and Tina!
WSIPC is so proud of the achievements of our Cooperative districts, teachers, and students! To learn how to become a part of the WSIPC Cooperative, visit our website or contact us at info@wsipc.org or 425.349.6600.
WSIPC is a non-profit public agency that provides technology solutions (including Qmlativ), services, and support to K-12 schools. WSIPC's purpose is to help schools do more with every dollar and to empower them with the tools to work smarter.
WSIPC. Inspired by education. Empowered by technology.TM
---