Teachers - Joyfully Rebel with Brad Montague at the Wonder Workshop! And Learn about Skyward!
Feb 15, 18
---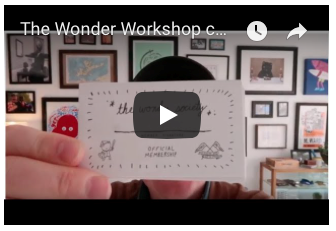 Brad Montague, the creator of
Kid President
, designed the
Wonder Workshop
exclusively for teachers and school administrators like you, to help you build your stories and connect with and inspire students. So come and joyfully rebel with Brad at the Wonder Workshop, and learn how Skyward can make your daily tasks easier so you can focus on teaching.

Sunday March 11, 2018 in Bellevue, WA
10:00 am - 1:00 pm Wonder Workshop

1:00 pm - 1:45 pm Lunch with Brad Montague

2:00 pm - 5:30 pm Skyward Sessions
Experience the Wonder Workshop
Brad is leading a joyful rebellion to create the world as it should be, full of wonder and whimsy for children and adults. So join Brad at the Wonder Workshop, and gain tangible tools to help you connect with and inspire your students. Learn how to create stories that enhance kid's self-esteem, discuss difficult topics, and more.

Brad's Stories


Are your students scared to be themselves? Reggie the bird knows how that feels!
See Reggie's story.

Skyward Training Sessions Are Also Included
You'll also learn how to enhance communication with students and parents, automate tasks and processes, and manage instruction on the go. You'll even see a sneak peek of Teacher Access in Qmlativ, the next generation of Skyward software.

Sign up today and receive up to 6 Clock Hours for attending!

---
Hosted by
WSIPC
as part of
WASWUG Spring 2018
at the Hyatt Regency in Bellevue, WA.

What is WASWUG?
WASWUG is a Washington Skyward User Conference designed for and created by district users who want to learn more about Skyward, share insights, and network.

Conference Host
WSIPC is a non-profit cooperative that provides technology solutions (including Skyward), services, and support to K-12 schools. WSIPC's purpose is to help schools do more with every dollar and to empower them with the tools to work smarter.
---
WSIPC Cooperative Member Registration Pricing for Wonder Workshop (Sunday only): $225 for Cooperative members
Not Sure If You're A Member?
If your school or district purchases WSIPC Cooperative services including software, hardware, or support, you are a Cooperative member. If you are unsure of your Cooperative member status, or would like to inquire about becoming a member, please contact WSIPC at 425-349-6600 or info@wsipc.org.
---