Save Your Seat! ECM Boot Camp Registration Now Open!
Oct 05, 23
---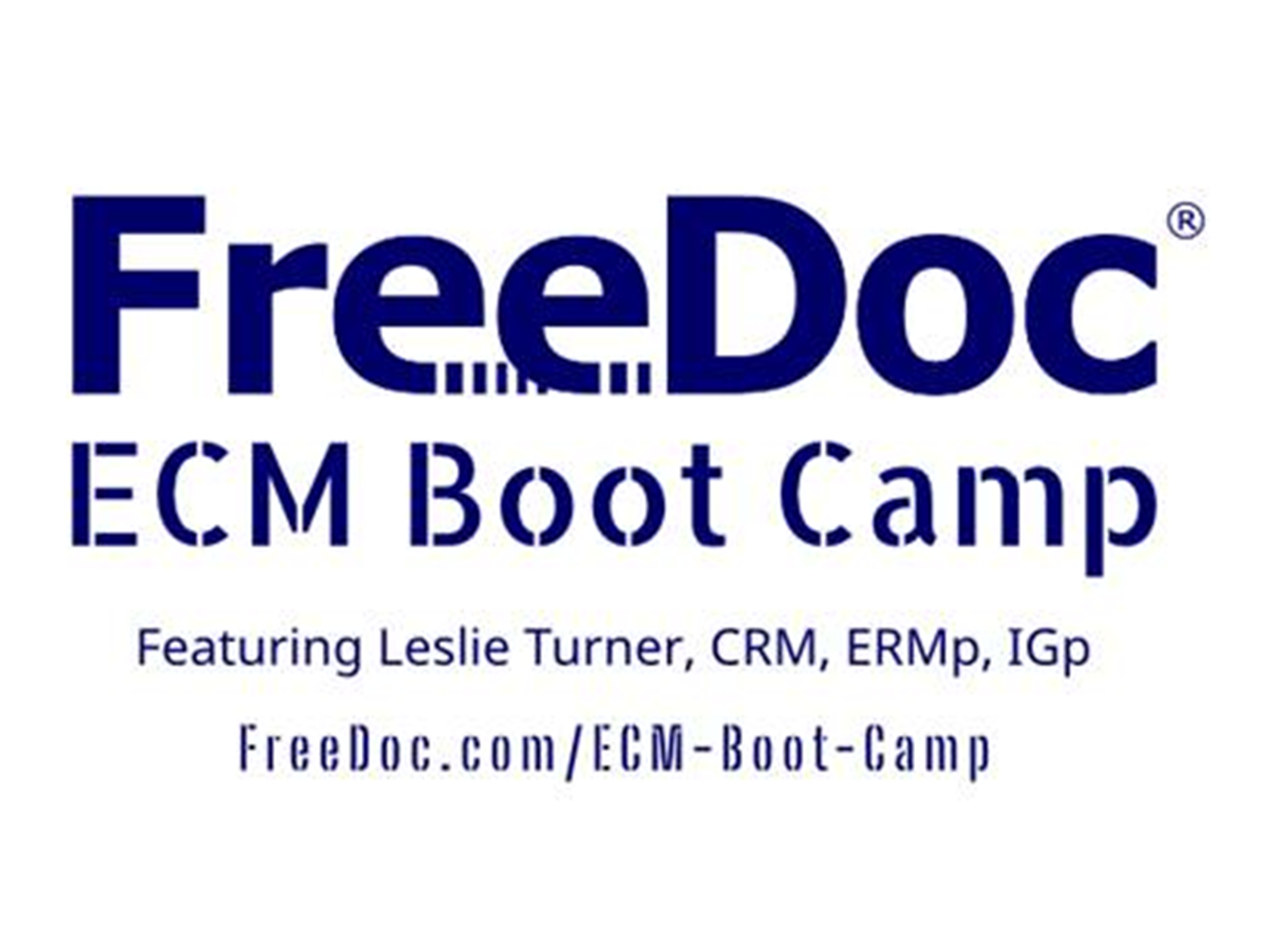 You're Invited: FreeDoc ECM Boot Camp!
A two-day intensive training event designed to give you the skills to transform manual office work into a digital space!
Two Session Options (same content both sessions)
Session 1: October 11th & 12th, 2023 - 9 AM – 1 PM PT
Session 2: October 25th & 26th, 2023 - 9 AM – 1 PM PT

This two-day "boot camp" was designed to help you make the business case to transform manual office work into a digital space, while integrating compliance and industry best practices at the same time!
Most agencies dislike being bogged down by manual paper processes and information silos. However, once an agency decides to go digital, it usually has no idea where to begin. The FreeDoc ® ECM Boot Camp℠ gives you the knowledge and skills needed to tackle decades-old problems of managing information by doing it methodically!
The ECM Boot Camp provides attendees with a proven, repeatable, and scalable process able to change the way agencies think about information management.
Whether you are budgeting to start ECM or have already gone gung-ho and purchased an ECM system and don't know your next steps, ECM Boot Camp offers you the tools and a roadmap to victory!

About WSIPC's Purchasing Program
WSIPC's Purchasing Program connects K-12 public and private schools and public agencies to a network of technology partners, leveraging the power of the WSIPC Cooperative to provide competitively bid goods and services at a reasonable cost.
Each vendor who becomes a part of WSIPC's Purchasing Program has been awarded a bid contract through an official RFP process in compliance with Washington State Procurement RCWs. For a full list of available product and service contracts, check out the Purchasing page on our website.
FreeDoc is an awarded vendor of the following:
WSIPC RFP 23-01 Contract Lifecycle Management Solutions

WSIPC RFP 21-02 E-signature and Document Approval Software Solutions

WSIPC RFP 21-01 Computer Software, Licenses and Services

WSIPC RFP 18-01 Workflow Management Solutions

WSIPC RFP 17-02 Document Management Solutions
WSIPC is a non-profit public agency that provides technology solutions (including Qmlativ), services, and support to K-12 schools. WSIPC's purpose is to help schools do more with every dollar and to empower them with the tools to work smarter. To learn how your district can become part of the WSIPC Cooperative, contact us at info@wsipc.org or 425.349.6600.
WSIPC. Inspired by education. Empowered by technology.TM
---