Qmlativ is LIVE at WSIPC!
Jul 30, 18
---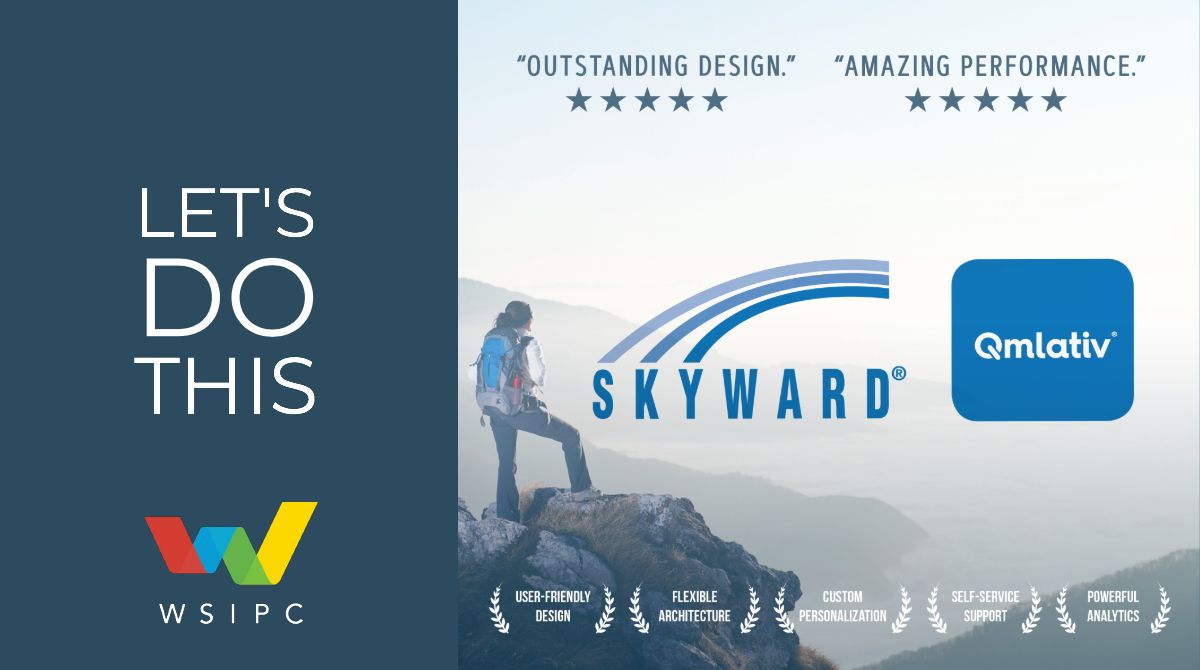 WSIPC is the first agency in Washington State to launch Qmlativ!
The
Qmlativ Education Management System
is a comprehensive, web-based system, encompassing two product suites (Student and Business). Qmlativ offers a wide variety of applications, and holistically manages the daily operations of your district or school.

WSIPC went live on Qmlativ Business on July 2, 2018. Since then we have successfully invoiced our customers, collected and recorded their payments, paid our vendors, and processed payroll.

Employee Access
Qmlativ Employee Access and Mobile Employee Access are both up and running, allowing our employees the ability to submit time off requests, travel reimbursements and purchase orders, and review their pay checks, anytime, anywhere. Qmlativ is also integrated with Outlook, so managers receive notifications when purchase orders, time off requests, and more, are ready for approval.

The Qmlativ Mobile App is the answer for your district's on-the-go needs. Whether your employees are in the classroom, roaming the halls, or miles away from the office, the Qmlativ Mobile App will keep your staff connected.

Qmlativ versus SMS 2.0
Although we are only one month in, the quality of Qmlativ is evident. Nancy Walsh, WSIPC's CFO stated that "the product, platform, and functionality are really good from a usability standpoint. Qmlativ is modern, streamlined, and easy to use, and is already improving our efficiency. When running our first payroll we were able to add, view, sort, and filter all the data elements needed for managerial review, and we could quickly and easily make adjustments right on the screen. In SMS 2.0 this involved running a number of different reports, so Qmlativ has already significantly improved the efficiency in our daily work."

Your ISC is Key to a Successful Launch
Tier one support was vital to the success of our Qmlativ launch. They helped us to run parallel processes for tasks such as payroll and invoice processing, in advance of our go live date, so we could compare the outcomes to ensure that the processes were running correctly. For districts upgrading to Qmlativ, partnering with your ISC for training and support will be vital to go live success.

Learning Qmlativ
WSIPC employees have gained a good base knowledge of Qmlativ via the self-paced, online learning provided through the Professional Development Center (PDC). The PDC is designed for all Cooperative users, regardless of role, and includes self-paced courses and walkthroughs with a knowledge check at the end of each section to ensure maximum retention. The Qmlativ Help Center has also been very useful for real time problem solving and for quickly finding answers or instructions related to a specific question or task.

"Coupled with great training and tier one support, we recommend Help Center and PDC as good tools for preparing your staff for Qmlativ."
Nancy Walsh, WSIPC CFO.

Congratulations and Thank You!
Thank you to our many staff members, tier one support, and Skyward, who have all worked tirelessly to get us to this point.

We are proud that WSIPC is Washington's first Qmlativ adopter, and that we are able to collaborate with other first-year adopters in Washington to provide insights and feedback to Skyward that will help enrich the Qmlativ software and refine the upgrade process for the Cooperative.
---
WSIPC
is a non-profit cooperative that provides technology solutions (including Skyward), services, and support to K-12 schools. WSIPC's purpose is to help schools do more with every dollar and to empower them with the tools to work smarter.
---