Into the Future - State Reporting and CEDARS in Qmlativ!
Apr 29, 19
---

Qmlativ migrations are on a roll and gaining momentum, and WSIPC's State Reporting Team is keeping pace! To date, WSIPC's State Reporting Team has already completed 26 state reporting projects for Qmlativ.
Finance & HR

Student

Board Certification for Warrant Distribution

Budget Status Report Cash Basis and Fund Balance for General Fund – ESD, ASB, Enterprise Fund, Transportation Vehicle Fund

Budget Status Report Fund Balance for General Fund – ESD, ASB, Enterprise Fund, Transportation Vehicle Fund

County Treasurer Reconciliation Report and Extract

CRDC Civil Rights Data Collection (CRDC)

Equity Summary Account Management (ESAM)

F-196 Annual Financial Statement Reporting

Quarterly Wage Detail Report – Unemployment

S-275 Personnel Report

Washington State Account Codes

Washington State Retirement

Workers' Compensation

CEDARS

Civil Rights Data Collection (CRDC)

Food Service Applications

Food Service Direct Certification Import

Food Service Verification Collection

Immunization Status Report

Monthly Reimbursement Claim

P-223 Monthly School District Enrollment Report

P-223H Monthly Special Education Enrollment Report

SSID Export / Import

Truancy Petition Claim

WA State Endorsement Requirements & Calculations

WA State Graduation Requirements

Washington Transcript
Need to complete your CEDARS, CRDC (Student or Business), P-223, or S-275 reporting in Qmlativ? WSIPC's got you covered!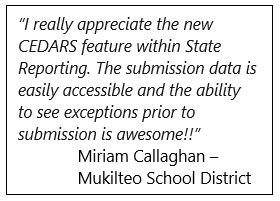 Tell me more about CEDARS!
Did you know that once a CEDARS Export has been created in Qmlativ, a district can choose to submit the files to OSPI at any time? Simply export the data files and select the "Send to OSPI" option! This submits the exported set of files to OSPI via FTP protocol, where OSPI receives and processes files daily.

And there's more! You no longer have to look up submitted files in My School Data or RDS (Remote Desktop Services)−you can view the data right on your Qmlativ screen, and download the files. And because most OSPI validations run automatically on the extracted data, it takes you much less time to research an issue.

With the Cooperative, you're always in compliance!
We regularly communicate with state agencies to gather requirements, monitor pending changes, and submit and test programmatic changes for each report, so your district can easily comply with reporting mandates.

With Qmlativ you are free to focus on what's important-education!
---
The
Qmlativ Education Management System
is a comprehensive, web-based system, encompassing two product suites (Student and Business). Qmlativ offers a wide variety of applications, and holistically manages the daily operations of your district or school. To learn more about Qmlativ contact your ESD, visit our
website
, or contact us at
info@wsipc.org
.
WSIPC
is a non-profit cooperative that provides technology solutions (including Qmlativ), services, and support to K-12 schools. WSIPC's purpose is to help schools do more with every dollar and to empower them with the tools to work smarter. To learn how your district can become a part of the WSIPC Cooperative, contact us at
info@wsipc.org
or 425.349.6600.

Inspired by education. Empowered by technology.TM
---