Free Webinar: Washington Teachers of the Year Discuss What Students Need for Going Back to School
Aug 04, 20
---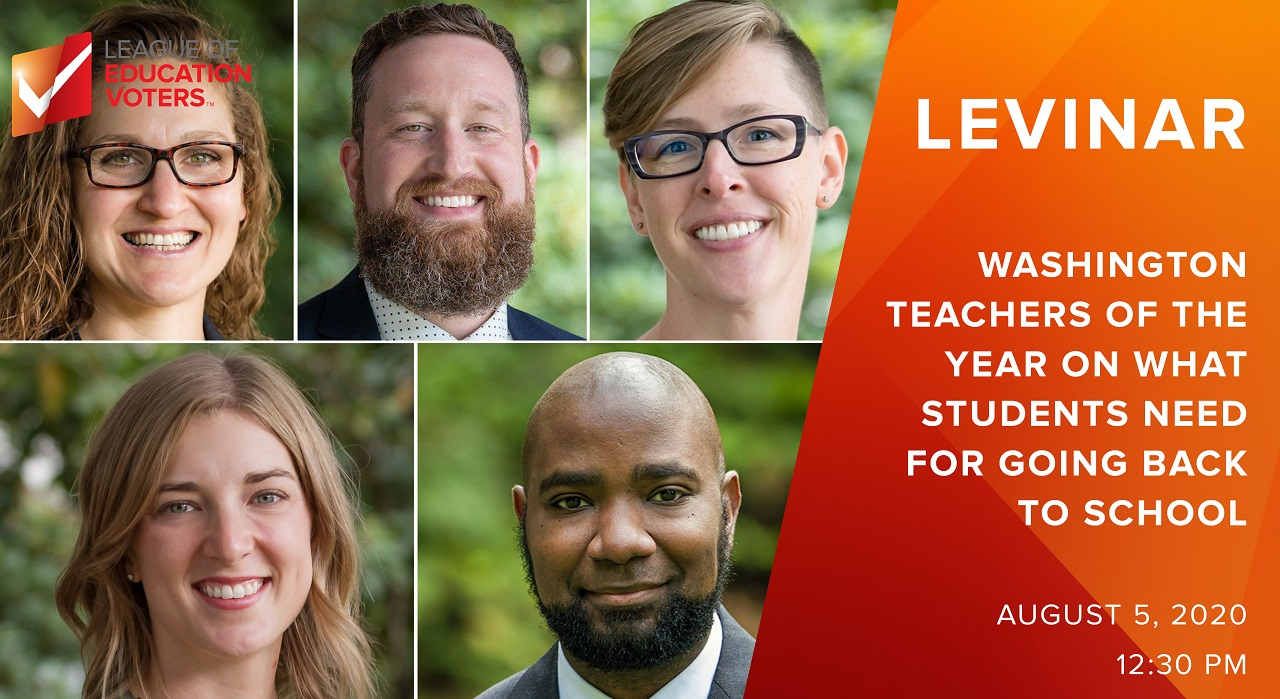 Free Webinar:
Washington Teachers of the Year on What Students Need for Going Back to School
August 5 at 12:30 pm (PT)
These are unprecedented times in Washington State. School districts are finalizing plans for reopening schools, and many have chosen hybrid and online learning models. But how have the COVID-19 school closures impacted students, and how can we best support them in the fall?

In this free webinar, Washington State Teachers of the Year will share what they are hearing from students, parents, and colleagues in their community; what students need to begin the 2020-21 school year; and will answer your questions.
Tune in and hear what these Teachers of the Year have to say:


Amy Campbell (2020)
Robert Hand (2019)
Mandy Manning (2018, and the 2018 National Teacher of the Year)
Camille Jones (2017)
Nate Bowling (2016)
Lyon Terry (2015)
Register Now For This Free Webinar!
This webinar is hosted by The League of Education Voters.
Moderated by League of Education Voters Communications Director Arik Korman.
Learn More from Robert Hand at WASWUG Fall!
Sign up for WSIPC's Virtual WASWUG Conference (October 12-14), and hear more from Robert Hand, our keynote speaker!
Robert Hand is a proud father of his 12-year-old daughter Avery and two little dogs, Joey and Gizmo. His favorite animal is a turtle, his favorite musician is Stevie Wonder, and one of his most interesting experiences in life was teaching Bill Gates how to cut and cook a chicken while talking about education.
Robert teaches at Mount Vernon High School in Mount Vernon, WA. He is currently teaching Careers in Education - Recruiting Washington Teachers, Beginning Leadership, Health, and Life After High School. Robert sits on the Washington State Stem Education Innovation Alliance and is a board member on the Washington State Professional Educator Standards Board. He is also a trainer for Social and Emotional curricula with CharacterStrong.
The League of Education Voters is a non-profit, non-partisan group that works with families, educators, and leaders across Washington State.
WASWUG is a Washington Skyward User Conference designed for and created by district users who want to learn more about Skyward, share insights, and network.
WSIPC is a non-profit public agency that provides technology solutions (including Qmlativ), services, and support to K-12 schools. WSIPC's purpose is to help schools do more with every dollar and to empower them with the tools to work smarter. To learn how your district can become part of the WSIPC Cooperative, contact us at info@wsipc.org or 425.349.6600.
WSIPC. Inspired by education. Empowered by technology.TM
---