Exhibitors - WASWUG Fall 2020 is Going Virtual!
Jul 02, 20
---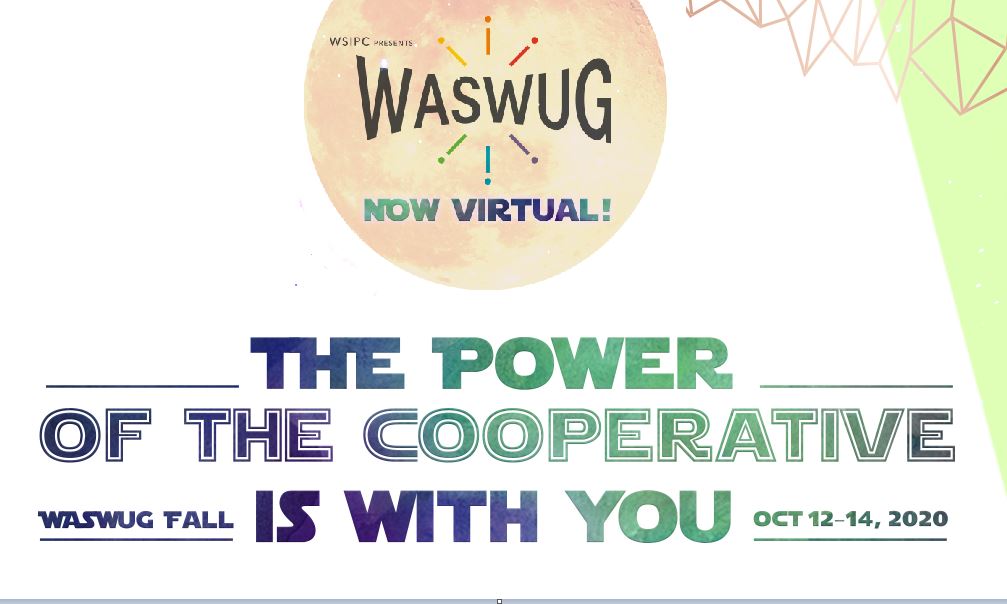 "You must unlearn what you have learned" ~Yoda
We are excited to bring WASWUG Fall to our partners and attendees – right where you are!
WASWUG Fall will still offer amazing networking, exhibitor and sponsorship opportunities, and a chance for you to engage with WSIPC Cooperative members from across Washington State!
In this new landscape, it's more important than ever for our partners to connect with districts, share products, and demonstrate solutions for innovative ways to learn both inside and outside of the classroom.
Registration for Virtual WASWUG Fall is open now!
New pricing and details are available at waswug.org.
You can review the Exhibitor/Sponsor Terms and Conditions here.

Virtual WASWUG Exhibit Area - $300 (includes)
Inclusion on WASWUG App – with custom profile, logo, and link to video content
Opportunity to connect with attendees before, during, and long after the virtual conference
Opportunity to upload one (1) recorded 'info-nar' (10-minute maximum for video content) link onto the WASWUG app and website - WSIPC will review and approve content
Inclusion on email sent to attendees promoting our exhibitor partners

Virtual Sponsorship Opportunity Highlight
At WASWUG Fall we will all be 'first timers' and we are excited to join all our attendees and partners in the virtual conference world.
We have the opportunity for one sponsor to celebrate and show support for our virtual 'first time!'
Our Yoda Sponsorship is an exclusive chance to showcase your products and solutions with a live (or recorded) breakout session in the conference schedule and to be a part of all of the unique features of a virtual WASWUG.
As we're sure Yoda would say...History we will make and fun we will have!
Yoda Virtual Sponsorship - $3,500
Exclusive 'First Timer Virtual' Sponsor
Sponsor logo prominent on WASWUG Fall website
One full page ad in electronic conference program (sponsor provides ad content)
One 60-minute live (or recorded) Virtual Breakout Session – included in the conference schedule
Custom Sponsor Tile on the WASWUG App
WASWUG App Banner Ad
Sponsor logo in the footer of all e-marketing messages sent to over 16,000 district personnel, in advance of the conference
Inclusion in one sponsor partner email sent out to attendees prior to conference
Sponsor inclusion on social media posts from WSIPC

Don't miss out - limited space available - first come, first served!
We want to thank you for your ongoing understanding and dedication to our WASWUG user group conference as we pivot to support our member training in this new digital reality.
We are looking forward to expanding the WASWUG experience for everyone!

WASWUG is a user group conference that provides the opportunity for Skyward software users to learn more about the product suite and other topics important to managing and reporting data. WSIPC hosts two conferences each year: WASWUG Spring (March) in Bellevue, and WASWUG Fall (October) in Spokane. Both conferences offer multiple breakout sessions for Student, HR, Payroll, and Finance users, as well as beneficial Professional Development courses. These sessions are taught by knowledgeable WSIPC, Skyward and ESD staff, trained professionals, and software power users.

WSIPC is a non-profit public agency that provides technology solutions (including SMS 2.0 and Qmlativ), services, and support to K-12 schools. WSIPC's purpose is to help schools do more with every dollar and to empower them with the tools to work smarter. To learn how your district can become part of the WSIPC Cooperative, contact us at info@wsipc.org or 425.349.6600.
WSIPC. Inspired by education. Empowered by technology.TM
---