ESD Spotlight: Free ESD 112 early learning playgroup goes virtual
Jun 04, 20
---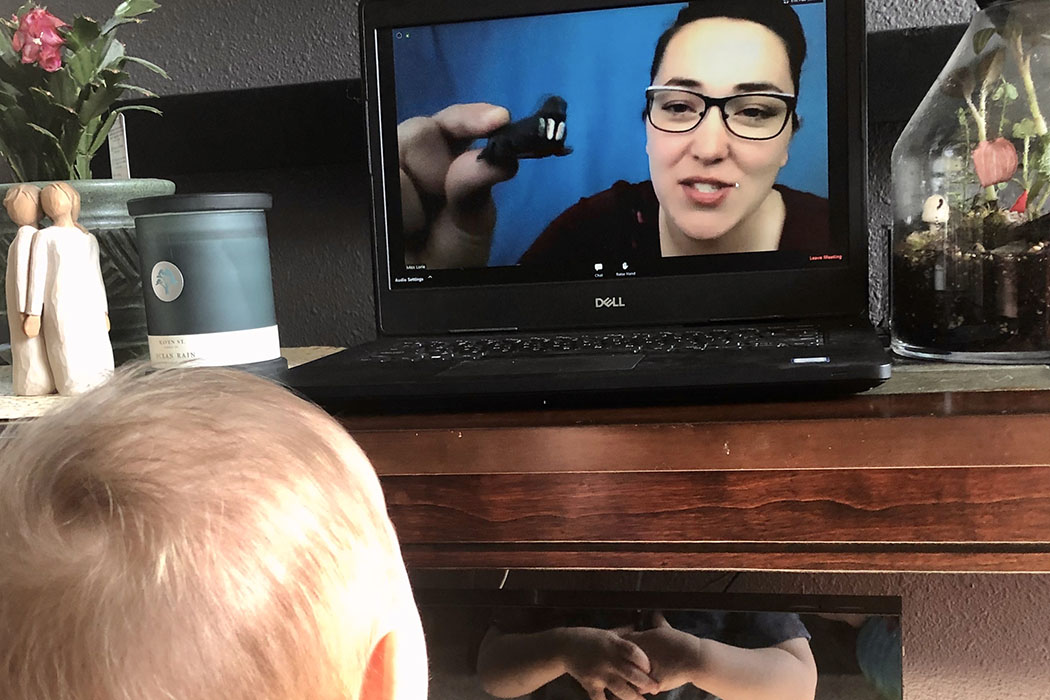 Countless operations and programs have had to switch gears and go digital over the past couple of months due to COVID-19, and education programs have perhaps come up with some of the innovative solutions yet. ESD 112 is no exception and has piloted numerous online versions of its many programs, including a free virtual early learning playgroup session for anyone with children ages birth through five years old. The playgroup, called 1-2-3 Grow and Learn, is run by ESD 112's Early Care and Education department and is usually offered in person at local schools across Southwest Washington.
When schools were ordered closed in mid-March, the 1-2-3 Grow and Learn program had to work quickly to adapt to an online model. Within a couple of weeks, the virtual playgroup was up and running and being offered to all families, not just those in local school districts. There are well over 100 kids joining the online sessions most days, proving this is a meaningful early learning option for many families.
Families attend the virtual sessions at 10 a.m., Monday through Friday, via an emailed Zoom link. Early learning teachers take turns leading the young attendees in a variety of themed activities, including story time and alphabet and number practice, as well as singing and dancing. Parents have the opportunity to submit their children's responses to various questions and teachers read them aloud for all to hear.

Parent feedback
For many families who are being required to adapt to new normal when it comes to school, work and play these days, those with young children can still have a daily lighthearted activity to look forward to, keeping them engaged in something that is at least a little familiar during an otherwise very strange time. Check out some of the great feedback we've received from parents of children who've attended the virtual sessions so far:
"It's upbeat and a great way to keep our family in a learning state of mind."
"The pacing is just right and it's engaging."
"We love the teachers and are so thankful to have this to look forward to!"

Join In!
Grow and Learn occurs weekdays at 10 am!
If you're stuck at home with young kiddos and need something to add to your weekday morning quarantine routine, join ESD 112 for a virtual Grow and Learn session!

Originally posted on ESD 112's website

WSIPC is so proud to partner with our Educational Service Districts. The success of your districts is evidence of your hard work and your support of the communities you serve. To learn how to become a part of the WSIPC Cooperative, visit our website or contact us at info@wsipc.org or 425.349.6600.

Educational Service District 112 is one of nine statutory regional service agencies in the state of Washington. Created by the legislature 50 years ago, ESDs ensure equitable educational opportunities for all students—urban and rural alike. ESDs are an essential partner in the efficient operation of Washington's 295 school districts and provide millions of dollars in services to schools through cooperatives, trusts, and competitive state, federal and private funds.
WSIPC is a non-profit public agency that provides technology solutions (including SMS 2.0 and Qmlativ), services, and support to K-12 schools. WSIPC's purpose is to help schools do more with every dollar and to empower them with the tools to work smarter. To learn how your district can become part of the WSIPC Cooperative, contact us at info@wsipc.org or 425.349.6600.
WSIPC. Inspired by education. Empowered by technology.TM
---