ESD Spotlight: Child-Directed Learning is Key in Early Childhood Education
Aug 29, 19
---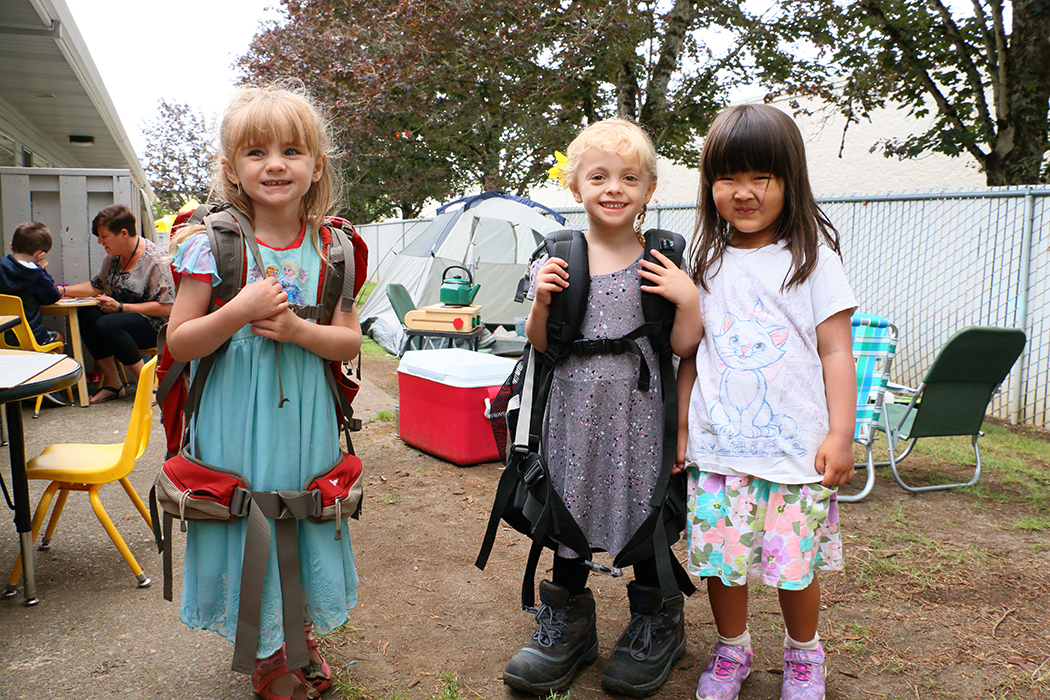 When a four-year-old tells you how plants breathe in carbon dioxide and breathe out oxygen or explains the difference between a liquid suspension and a solution, you might think that she attends one of those private, curriculum-based preschools focused on making sure tots are college-bound (and rote memorization must have been involved).
But that couldn't be farther from the reality of Ray Thorne's Pre-K classroom at
Park Crest Early Learning Center
where that child attends with a group of other 4- and 5-year-olds in Vancouver, Washington.

The learning that happens in Ms. Ray's classroom is completely child-directed; the children study what interests them at the time, in the play-based method that is the most effective for this age-group.

"We call them 'studies', rather than 'themes' or 'units,'" explains Thorne, "because I'm not the one choosing. I just listen and follow their natural curiosity where it leads us. You never plan more than a week in advance because you can't. You have to always be listening to what their questions are and be flexible enough to veer off topic a little."

The class is currently wrapping up their August camping study where they spend mornings three days a week outside in their "camp," with a tent, picnic tables, a large paper canoe and a ring of camp chairs around an unlit campfire. There they explore all there is to learn about camping–from camp cooking to hiking to animal tracking to map reading.

"On the last day we get to roast marshmallows!" squeals one camper.

"Yeah! We're going to have S'MORES!" chimes in another.

The camping study was a unanimous one. "It's not always so easy to get them all to agree, but some of the older kids had done it last year, and other kids had gone camping this summer, so everyone was enthusiastic to do it again this year," says Thorne. "This study can be challenging because it requires a lot of space. We are lucky enough to have outdoor space here at Park Crest that is not in use during the summer when ECEAP is out of session."

Past studies in Ms. Ray's classroom have included an art study, which resulted in a beautiful large painting in the center's hallway, a garden study where the children planted and tended a garden and watched caterpillars transform into butterflies, and a science study of different chemical reactions because a group of kids had seen another class make a baking soda volcano and they wanted "to blow things up."

Thorne doesn't know what the next study will be because many children are going off to kindergarten and new ones will be coming in. What she does at the beginning of the year is put out a wide variety of things for her students to interact with and observes what they gravitate toward and what questions they have. The questions can be big ones.

"During our garden study, the kids really wanted to know how plants get their food from the sun. It wasn't enough for them to just know that they got food," says Thorne. "People don't think that kids this age can think at that level, and so finding books for them can be a challenge. For photosynthesis, we ended up creating a kind of play for them to act it out."

For the most part, the children in Ms. Ray's classroom spend their entire day in "free choice", directing their own learning. This allows Thorne to "float" and talk to kids about their explorations one-on-one. "Those are the times you build language and connections," Thorne explains.

She keeps in close contact with her students' families and they work together to build individualized goals for each child (whether social emotional or academic). When she connects with each child, she is able to support those goals. Whether the children completely understand or absorb everything from their studies doesn't really concern Thorne.

"Supporting kids emotionally and building connections with them and their families is the most important of all," she says. "That's what I tell the new teachers."

Thorne has taught young children for over 25 years, has a bachelor's degree, a Montessori Teaching Credential for ages 2-1/2 to 6, and is doing a Washington State Early Learning Fellowship with Park Crest's ECEAP teacher that focuses on building family relationships and training new teachers. She got her start in Montessori and had the benefit of strong training and guidance from older teachers. Now she considers it her job to "pay it forward" by helping young teachers just entering their careers in early childhood education.

"You do this because you love children and families," she says. "I consider my job my service."
WSIPC
is so proud to partner with our Educational Service Districts. The success of your districts is evidence of your hard work and your support of the communities you serve. To learn how to become a part of the WSIPC Cooperative, visit our
website
or contact us at
info@wsipc.org
or 425.349.6600.
Educational Service District 112
is one of nine statutory regional service agencies in the state of Washington. Created by the legislature 50 years ago, ESDs ensure equitable educational opportunities for all students—urban and rural alike. ESDs are an essential partner in the efficient operation of Washington's 295 school districts and provide millions of dollars in services to schools through cooperatives, trusts, and competitive state, federal and private funds.
WSIPC
is a non-profit cooperative that provides technology solutions (including
Qmlativ
), services, and support to K-12 schools. WSIPC's purpose is to help schools do more with every dollar and to empower them with the tools to work smarter. To learn how your district can become part of the WSIPC Cooperative, contact us at
info@wsipc.org
or 425.349.6600.

WSIPC. Inspired by education. Empowered by technology.TM
---