"Easy-Peasy" At Your Fingertips: Embedding Skyward Videos on Your District Website
Dec 16, 19
---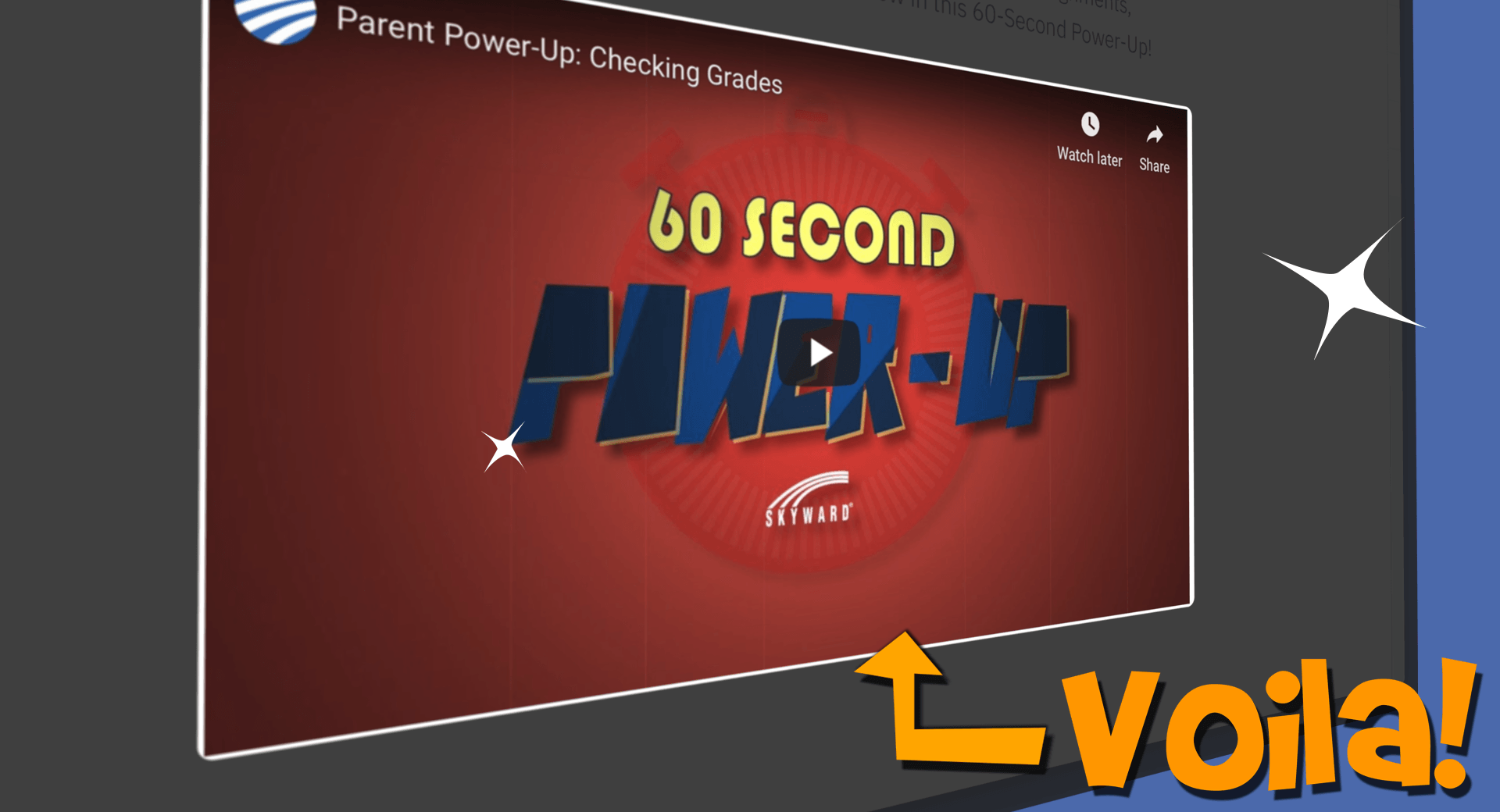 Did you know you can embed Family Access Toolkit videos directly onto your district's website? It's easy, effective, and helpful—we'll show you how!

True story: While browsing in a boutique recently, Georgia Omer overheard two parents discussing how to best check their children's grades in Skyward. "Of course, I perked up and listened," Georgia says—she is Alpine School District's reigning Skyward curriculum specialist (i.e., the Skyward point-person) in Utah. One of the parents pulled up the district's website on her phone and showed the other all the video tutorials featured there. Georgia recalls hearing the other parent's response: "Easy-peasy!"

Skyward's Power-Ups, the tutorials in question, are featured prominently on Alpine's district website by design. The Power-Ups, and all the Toolkit videos, are quick (read: 60 seconds!) and accessible, covering everything from attendance, grades, and the message center to "what parents see," course requests, and registration (plus much more!). There are Toolkit videos for students, teachers, parents, administrators, and employees.

Georgia remembers finding herself in search of guidance when she stumbled upon a Power-Up. It "made my learning fast, easy, and reliable," she says. "I simply thought, 'Why am I reinventing the wheel? These are fantastic resources, so why aren't we using them?' I went on a treasure hunt, found all of the Power-ups Skyward offered, embedded them on our site, and voila!" She says the positive feedback came immediately—and with good reason: "They are professionally made, to the point, make the users feel at ease, and are super-easy to follow and use."

Your own district can benefit from these Power-Ups (and any of our other videos) by embedding them on your website. "Easy-peasy!" indeed. Click here to learn how.
Originally posted on Skyward's Educator Newsletter blog

WSIPC is a non-profit cooperative that provides technology solutions (including Skyward's Qmlativ and SMS 2.0 solutions), services, and support to K-12 schools. WSIPC's purpose is to help schools do more with every dollar and to empower them with the tools to work smarter. To learn how your district can become a part of the WSIPC Cooperative, contact us at info@wsipc.org or 425.349.6600.
WSIPC. Inspired by education. Empowered by technology.TM
---