District Spotlight: The Expansion of Riverside High School's Powersports Program
Oct 22, 19
---

Riverside School District Career & Technical Education (CTE) programs offer unique experiences in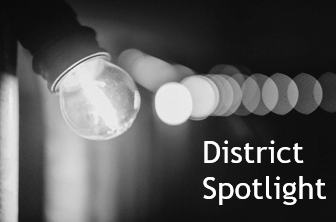 preparing students to enter the workforce upon high school graduation. One particular training opportunity is the Powersports program taught by David Howard, who believes in the quote, "There's no such thing as luck. Luck is the crossroad of opportunity and preparedness." These types of life lessons are learned throughout his courses. Mr. Howard's program provides the opportunity for students to learn all facets of the motorcycle/marine service industry. Riverside's program is an official training program for the Equipment Engine Training Council and Yamaha Marine, and students can obtain industry certification.
This spring, Riverside High School's Powersports program expanded again by acquiring Lake Washington Technical Institute's entire metric motorcycle unit for hands-on training. The acquisition included thirteen motorcycles, two outboard motors, a jet ski, and a four-wheeler previously used as trainers at Lake Washington's program and now to be fully utilized in Mr. Howard's Powersports program. The program previously received industry donations from Harley Davidson and Yamaha Marine of five Harley Davidson motorcycles, twenty powertrain units, and multiple Yamaha outboards. The donations and support of industry are supporting one of the top training programs in the Western United States.



"We want our students trained and ready to work right out of high school, if not prior to graduation. Industry support has been phenomenal and their confidence in our program is indicated by their financial support as well as the phone calls requesting students apply with their businesses," says Talana Mielke, CTE Director for Riverside School District. "This shows the high level of industry-driven instruction Mr. Howard brings to education."


Originally posted on the Our Kids Our Future site


WSIPC is so proud of the achievements of our Cooperative districts, teachers, and students! To learn how to become a part of the WSIPC Cooperative, visit our website or contact us at info@wsipc.org or 425.349.6600.


WSIPC and CTE
WSIPC's My School Data Portal gives you access to the My School Data suite of applications. With the Career and Technical Education (CTE) Completers tool, you can determine and track which students are eligible for completion, saving you time and ensuring data accuracy.


To learn more or view a demo, contact your Information Service Center or WSIPC at myschooldata@wsipc.org or (425) 349-6699.


Or come to WASWUG Spring in Bellevue (March 8-10) – Marvelous surprises await you!


Registration opens October 23rd, 2019!


WASWUG is a Washington Skyward User Conference designed for and created by district users who want to learn more about Skyward, share insights, and network.


WSIPC is a non-profit cooperative that provides technology solutions (including Qmlativ), services, and support to K-12 schools. WSIPC's purpose is to help schools do more with every dollar and to empower them with the tools to work smarter. To learn how your district can become a part of the WSIPC Cooperative, contact us at info@wsipc.org or 425.349.6600.


WSIPC. Inspired by education. Empowered by technology.TM
---