District Spotlight: Olympic Peninsula High School Student Art Exhibition
May 14, 20
---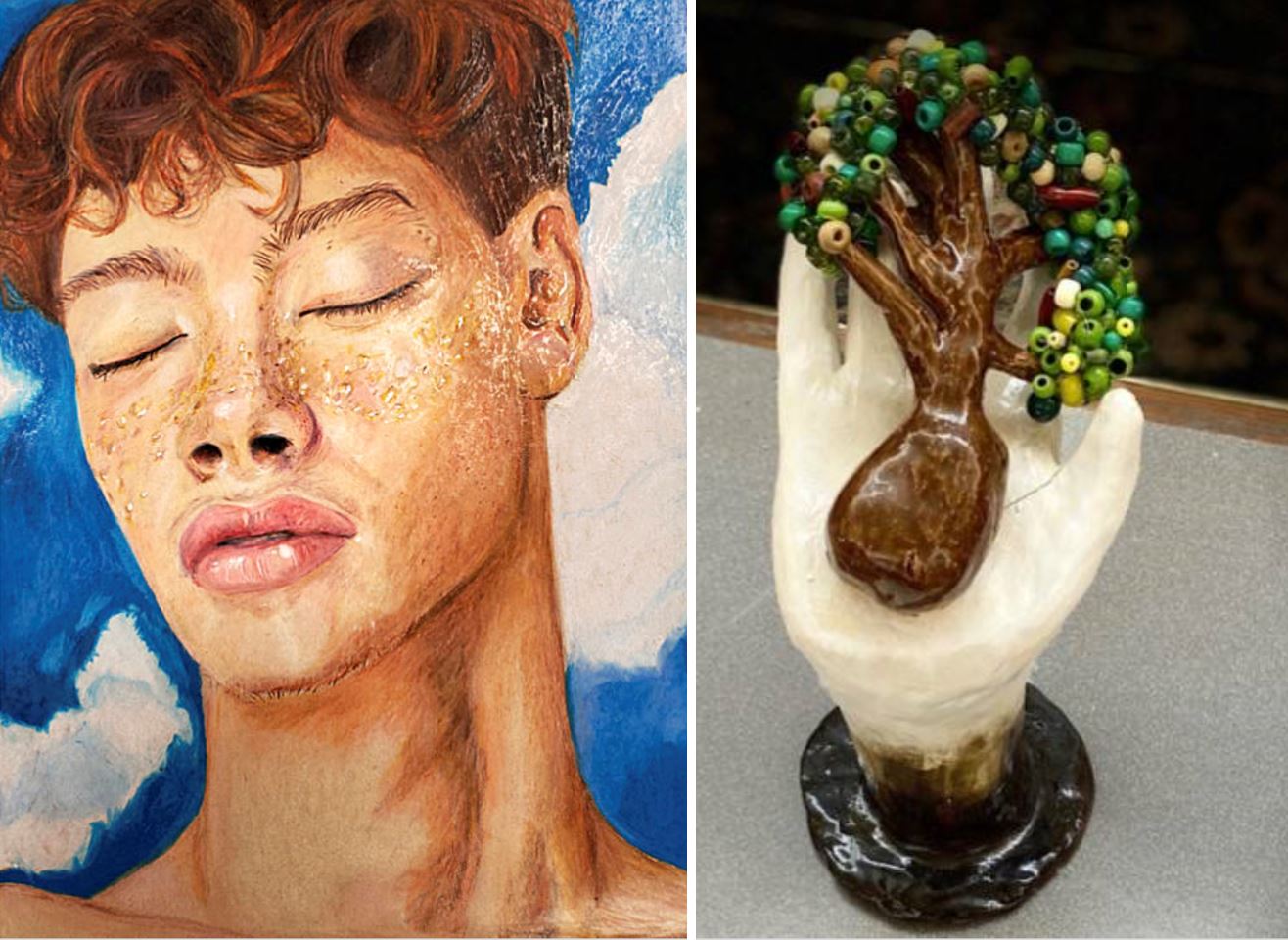 Despite the cancellation of an in-person exhibition, the Olympic Peninsula High School Student Art Exhibition at Peninsula College heralds some of the top student art in the region.
Hosted by Peninsula College's Art and Multimedia Communications departments, the juried competition (available to high school students living on the Olympic Peninsula who make 2-D or 3-D art) saw 93 entries.
The contest was scheduled to go on display at the college's PUB Gallery of Art in April, but after concerns over the spread of COVID-19, judges from the college decided to select awards from the digital images of the entries received.
Best of Show went to freshman Rae Douglas of Sequim High School for "My Tri-Cities Boy."
"We wanted to find a way to move forward during the pandemic and acknowledge the artistic accomplishments of high school art programs and their students," PC Art Professor Michael Paul Miller said.
"During this time of social distancing, the arts can play a big role in bringing beauty, comfort and inspiration to others."
See more of the award winning artwork on the PUB Gallery of Art Facebook page!

Best of Show
Rae Douglas, Sequim High School; "My Tri-Cities Boy," (2019, 14"-by-11", prismacolors)
2-D division
Celeste Tucker, Port Angeles High School; "Untitled" (2019, 8"-by-10", mixed media)
Braun Conner, Port Angeles High School; "Self Portrait" (2019, 12"-by-18", graphite on paper)
Sophia Orth, Port Angeles High School; "Digital Illustration" (2019, 12"-by-18", Adobe Photoshop)
3-D division
Nicole Leann Fearn, Sequim High School; "3D Clay Hand Sculpture" (2020, 6"-by-7"-by-12.3", clay and beads)
Tara Mallory, Sequim High School; "Skull Candle" (2018, 4"-by-5", clay, wax, beads and acrylic)
Amarya Sump, Sequim High School; "Zombie Foot" (2020, 6.5"-by-14"-by-4", clay)
Honorable mentions
Cyzer Blue, Port Townsend High School; "Thoroughfare of Innocence" (2020, 11"-by-14", 3-D collage, India inks and linen paper base)
Matea Gradilla, Sequim High School; "And Still I Bloom" (2019, 20"-by-16", acrylic)
Hannah Knight, Crescent School; "Window" (2019, 5"-by-8", linocut)
Tyler Smith, Port Angeles High School; "Portrait" (2018, 18"-by-24", watercolor & graphite on paper)
Kai Snook, Port Angeles High School; "They/Their" (2019, 8"-by-4" each, ink on paper)

For more information about the contest, email Miller at mpmiller@pencol.edu.
Originally posted in the Sequim Gazette


Congratulations to all the artists!
WSIPC is so proud of the achievements of our Cooperative districts, teachers, and students! To learn how to become a part of the WSIPC Cooperative, visit our website or contact us at info@wsipc.org or 425.349.6600.


WSIPC is a non-profit public agency that provides technology solutions (including Qmlativ), services, and support to K-12 schools. WSIPC's purpose is to help schools do more with every dollar and to empower them with the tools to work smarter.

WSIPC. Inspired by education. Empowered by technology.TM
---