District Spotlight: New Peer Mentor Program at Centennial Elementary School
Jan 31, 20
---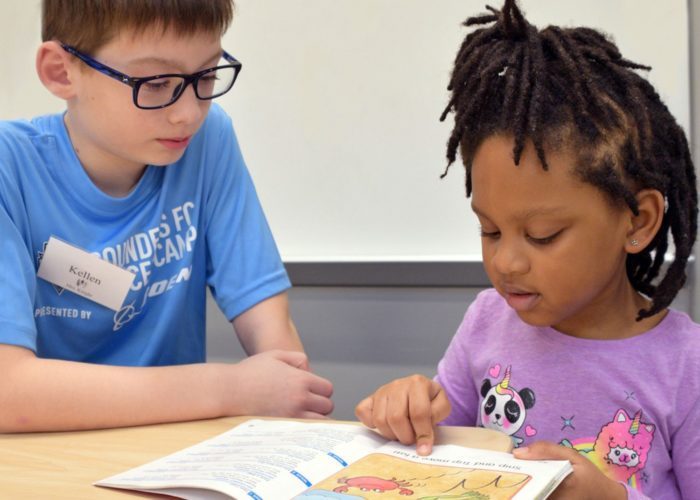 Kindergartner Angelo Monilla slides his small fingers into a chunky pair of plastic-handled scissors. Ever-so-carefully, he begins to cut along a bold black line drawn on an oversized piece of red construction paper. With each cut, the boy's eyes remain fixed on the black line. He twists and turns the paper to cut around corners until eventually the excess paper falls to his desk, leaving him successfully holding a bright red paper flower pot.
When Angelo finally breaks his concentration to look up, he sees other students at his table beginning to glue their pots onto a large piece of black construction paper. He searches for a glue stick under what has quickly become a tabletop full of red paper scraps.
As he continues to search, fifth grader Aahana Lohan appears at his side with glue stick and a reassuring smile. She watches as the boy swirls a circle of purple-colored glue onto the black paper and then presses his red flower pot neatly onto one edge to form the beginning of a paper potted poinsettia plant.
Seeing his success, Aahana moves on to help other students. She is among a growing number of fourth and fifth graders who volunteer to help younger peers as part of a new peer mentor program this year at Centennial Elementary School.
Principal Shannon Ritter launched the program shortly after school opened in fall. She asked for interested volunteers during morning announcements over the school intercom. Not long thereafter, 35 students showed up at the door eager to sign up, far exceeding her expectations. The number of mentors has nearly doubled since then as word of the program has spread.
The fourth and fifth graders substitute one of their 35-minute recesses each week to help students in kindergarten and first-grade classes, as well as in the school's new Developmental Learning Center (DLC) classes.
"I just love how excited the kids are about this, both the mentors and the younger students," Ritter says. "The mentor is another person in a younger student's life that cares about them and wants them to be successful."
With the introduction of DLC classes at Centennial this year, Ritter says having peer mentors in the program supports the school's efforts around inclusiveness. "Our teachers and students have really embraced this."
Kindergarten teacher Laura Hendrix adds that having peer mentors in her kindergarten class is like inviting professional baseball players to a Little League game.
"The respect, rapport and amazing help the older children provide has been a gift to both children and teachers," she says. "Though we feel we benefit from the relationships the most in kindergarten, you can tell by the looks on the faces of the older children that they are benefiting in confidence and from the gift of giving of themselves too. It's a win-win if there was one!"

Read more on the Our Kids Our Future site


WSIPC is so proud of the achievements of our Cooperative districts, teachers, and students! To learn how to become a part of the WSIPC Cooperative, visit our website or contact us at info@wsipc.org or 425.349.6600.

---

WSIPC is a non-profit cooperative that provides technology solutions (including Qmlativ), services, and support to K-12 schools. WSIPC's purpose is to help schools do more with every dollar and to empower them with the tools to work smarter. To learn how your district can become a part of the WSIPC Cooperative, contact us at info@wsipc.org or 425.349.6600.

WSIPC. Inspired by education. Empowered by technology.TM
---