District Spotlight: Meet 2019's Literacy Champion Award Winners!
May 08, 19
---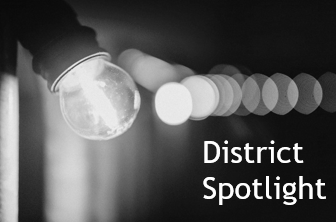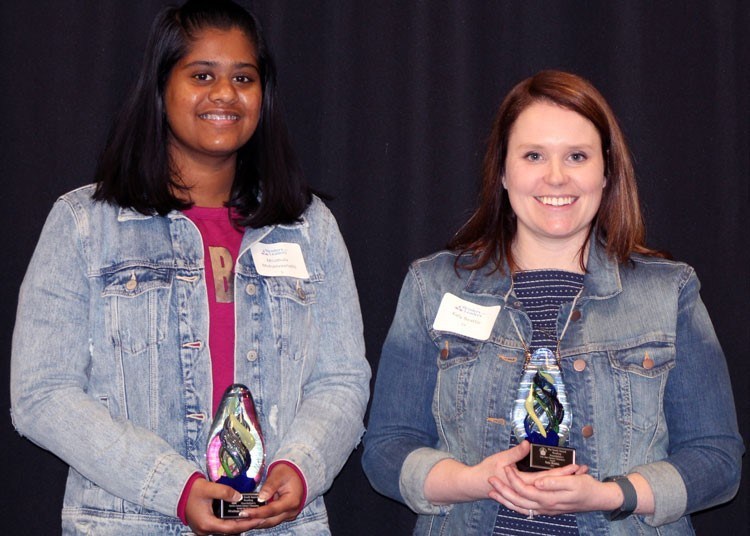 Congratulations to
Garfield Elementary
librarian Katy Beattie and
Olympia High School
freshman Mruthula Mohanvaanathi, who are this year's South Sound Reading Foundation Adult and Youth Literacy Champion Award winners.
The literacy awards are presented each year by the South Sound Reading Foundation during its annual "Readers are Leaders Benefit Breakfast."
Olympia School District
Superintendent Patrick Murphy, School Board President Joellen Wilhelm, board member Frank Wilson, past board member Eileen Thomson and eight district staff members joined more than 200 guests at the breakfast on April 11.
The Foundation called each winner forward to the stage, read their nomination and presented them with an engraved plaque at the annual breakfast held at the South Puget Sound Community College Lacey campus. An additional literacy award for business partner was awarded to Olympia Pediatrics.
The South Sound Reading Foundation serves more than 56,000 children, youth and families each year with free books, story times, education classes, book talks and information about the importance of reading with children. The Foundation's mission is "to bring the joy and promise of books and reading to all South Sound children, especially those who are at-risk, under-served, struggling or experiencing poverty."

Katy Beattie
Garfield Elementary Principal Brendon Chertok nominated Beattie for the award. She has been the school librarian for three years and has built a library "that is responsive to student interests and reflects the diversity of our school."

Chertok also wrote in his nomination that Beattie opens her library every morning for families and students so they can sit and peruse books, talk and enjoy activities "that have brought our community together."

She is also a frequent storyteller at school assemblies, holds a Battle of the Books competition, has become "an exceptional" grant writer to fund more books and frequently builds baskets of books to support areas of focus for Garfield teachers. "She has created an environment that is a hub for our school," Chertok wrote.

The Literacy Champion Award for adults is named after Lois Asay, founding volunteer of the South Sound Reading Foundation who passed away in 2013. To honor her memory, each year the Foundation recognizes an outstanding adult or team in the community who "has really gone above and beyond to promote literacy and a love of reading."

Mruthula Mohanvaanathi
Olympia High School ninth grader Mruthula Mohanvaanathi, nominated by her mother, served as a volunteer at the Boys and Girls Club after-school tutoring program in grades 6-8. As a volunteer, she visited the club two days a week to help students in grades 1-3 with their reading and math homework. She also read books to children and answered their questions, all while helping them try new vocabulary words.

"Mruthula volunteered because of her personal interest and passion for helping other kids," her mother wrote. "Her volunteer hours were not mandatory for her educational records at her school. She has always been very determined. Not only is she hardworking and dedicated, but she always has positive, kind and uplifting words to share. She always manages to do a great job of motivating the kids."

The Literacy Champion Award for youth is named after Shirlee Lehnis, who passed away in 2007. The Foundation describes Lehnis as "the driving force behind the Reading Foundation. She is the reason we exist. She was also an extraordinary educator who truly believed in the importance of literacy and had an affinity with children."
WSIPC is so proud of the achievements of our Cooperative districts, teachers, and students! To learn how to become a part of the WSIPC Cooperative, visit our
website
or contact us at
info@wsipc.org
or 425.349.6600.
---
WSIPC
is a non-profit cooperative that provides technology solutions (including Skyward), services, and support to K-12 schools and ESDs. WSIPC's purpose is to help schools do more with every dollar and to empower them with the tools to work smarter.

Inspired by education. Empowered by technology.TM
---