Bee-ginning the Concepts of Programming with Bee-Bots
Sep 19, 19
---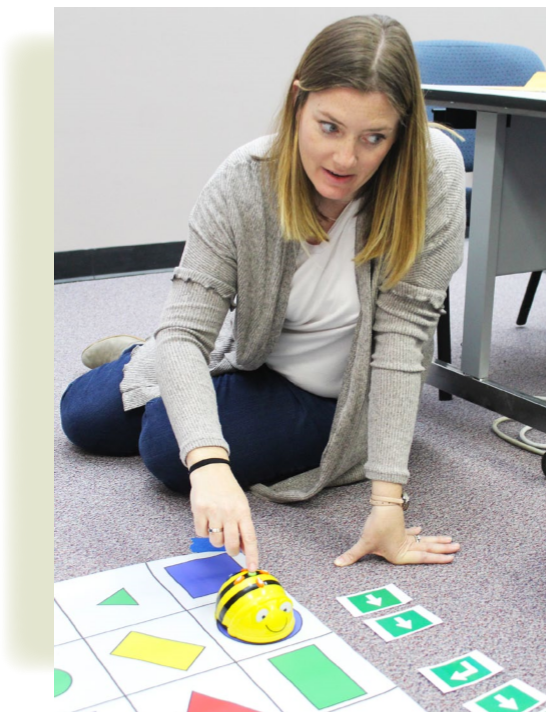 Kindergarten teacher Jenn Balderston of West Valley's Wide Hollow Elementary programs a Bee-Bot during an April 9 Early Learning Fellows training at ESD 105

ESD 105 is now involved in beekeeping operations, courtesy of a hive of six Bee-Bots that are being used to help preschool and early elementary-age children developing both some fundamental and high-level thinking concepts.

The Bee-Bots learning toys are battery-powered, wheel-legged, and halfball-shaped plastic garden insects that beep (not buzz) and have light-up eyes.

The yellow cartoony bugs are designed to travel on any one of the collection of vinyl mats that contain squares showing colored shapes, numbers, letters, groups of coins, or pictures of objects.

The pictures on the mats help children make connections about colors, sounds of words and letters, and simple math. But the part involving getting the bees to move adds a whole other higher layer of learning to the process.

Operators use seven buttons on the robot's back to prepare a series of up to 40 commands involving right turns, left turns, forward moves, and specific number of spaces they want the Bee-Bot to take on its plastic mat for each of those moves.

Users also consult a series of directional cards in their process of thinking ahead to mapping out where they plan to have their Bee-Bot go.

"It's simple coding, but what kids are doing is the same type of work that programmers are doing when they're writing code," says ESD 105 Teaching and Learning coordinator Larry Davison. "Kids are so excited to be learning with these."

For the past few months, Davison has been using the Bee-Bots in teacher trainings for members of the ESD 105 Early Learning Fellow group and in his Computational Thinking Integration for K-5 Teachers workshops.

ESD 105 early learning specialist Amy Gutierrez has been using the BeeBots in her work with children at the Toppenish preschool, where the resources have been used to help students' phonological awareness by matching rhyming words on the vinyl mat, and in teaching young people the names of the planets.

The robot bugs have also been pollinating the instructional support work at Yakima's Blossoms Early Learning Center.
WSIPC
is so proud to partner with our Educational Service Districts. The success of your districts is evidence of your hard work and your support of the communities you serve. To learn how to become a part of the WSIPC Cooperative, visit our
website
or contact us at
info@wsipc.org
or 425.349.6600.
---
WSIPC
is a non-profit cooperative that provides technology solutions (including
Qmlativ
), services, and support to K-12 schools. WSIPC's purpose is to help schools do more with every dollar and to empower them with the tools to work smarter. To learn how your district can become part of the WSIPC Cooperative, contact us at
info@wsipc.org
or 425.349.6600.

WSIPC. Inspired by education. Empowered by technology.TM
---