Alice McCallister - Our Doctor of Information Technology!
Sep 05, 19
---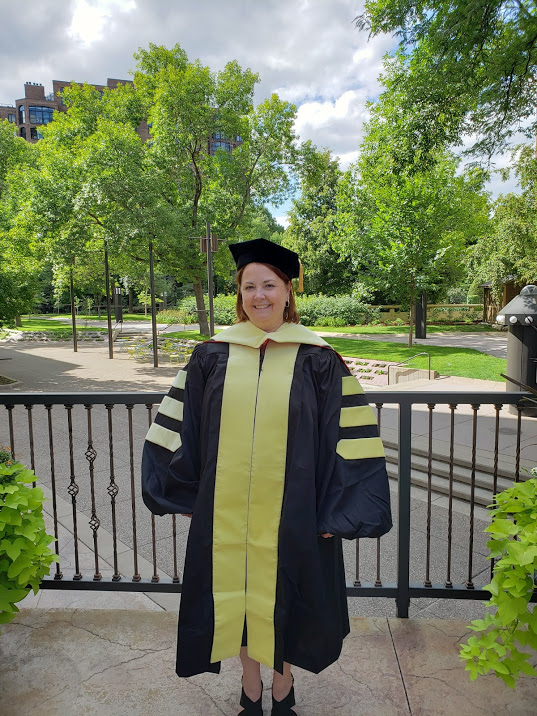 Our very own Alice McCallister has earned her Doctorate in Information Technology (DIT) with a specialization in IT Education! Alice graduated from Capella University on August 24th with a 4.0 GPA which earned Honors, and she made the President's List every eligible quarter. The title of her dissertation is "The Technical Challenges of Implementing Gamification: A Qualitative Case Study."

Alice has worked at WSIPC for 6.5 years. As a Business Analyst on the Product Support and Services team she provides product support and training to our coordinator base on our SMS 2.0 and Qmlativ software. Alice is already using her new skills to benefit the Cooperative.

"Right now, I am primarily focused on the training aspect. Which is handy as my doctoral specialization was IT Education!"

We are so proud of Alice's work ethic and dedication, not only to her studies and education, but also to WSIPC and our Cooperative. It's an impressive accomplishment to work full time and complete a doctorate simultaneously!

We are lucky and honored to work with such an inspirational person!

Congratulations Dr. McCallister!
---
The
Qmlativ Education Management System
(and its previous version,
SMS 2.0
) is a comprehensive, web-based system, encompassing two product suites (Student and Business). Qmlativ offers a wide variety of applications, and holistically manages the daily operations of your district or school.
WSIPC
is a non-profit cooperative that provides technology solutions (including Qmlativ and SMS 2.0), services, and support to K-12 schools. WSIPC's purpose is to help schools do more with every dollar and to empower them with the tools to work smarter. To learn how your district can become part of the WSIPC Cooperative, contact us at
info@wsipc.org
or 425.349.6600.

WSIPC. Inspired by education. Empowered by technology.TM
---