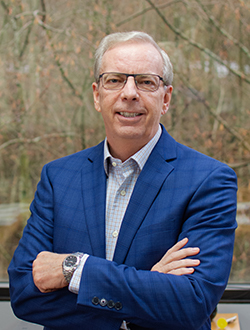 From Our Executive Director & CEO

"When it comes to the Cooperative, we don't just focus on how many people we serve, but also on how effectively we serve them."
In this day and age, when demand for data is accelerating and digitization of education is growing, WSIPC must provide a Swiss Army Knife of tools to Cooperative members. Those who work within the WSIPC Cooperative rise to this challenge. We enjoy finding new solutions or making old ones do new tricks. It puts us in a constant state of innovation and creativity—reinforcing the value of technology within the K-12 community. There will always be ways to innovate and improve, and at WSIPC this is our focus.
In 2019, we continued to help our member districts comply with state and federal reporting demands, reducing the burden on already overburdened resources. We worked closely with OSPI and HCA to ensure that Account Code structure changes and implementation of SEBB went smoothly, allowing districts to focus on their daily educational missions.
We take data accessibility and data security very seriously. Our efforts proceeded this past year to provide members with multiple ways to access and share their data, providing the flexibility to integrate 3rd party resources like parent and community engagement tools and business automation tools securely.
A major focus for the WSIPC Cooperative in 2019 was the migration to Skyward Qmlativ. After our initial rollout, we slowed the process down in September to investigate our assumptions, determine what worked well, and to make adjustments where necessary. With our refined migration process in place, we look forward to guiding many more of our districts on to Qmlativ in 2020.
The rapid evolution of Student Information Systems and education technology presents challenges for all school personnel. To keep up and stay ahead of the digital initiatives occurring in many schools, WSIPC will continue to provide high-quality technology solutions and support, along with streamlined and innovative ways schools can access their data.
–– Marty Daybell