Building the Future, Together
The WSIPC Cooperative is inspired by education, and by you, our Cooperative member districts, who motivate us every day to provide the exceptional technology, services, and support you need to serve your students, schools, districts, and communities. In 2021, our main areas of focus were Qmlativ migrations, protecting your data security, and increasing the opportunity for savings with products and services available to you through our WSIPC Purchasing Program. 2021 has been a challenge, but our Cooperative is strong, and we'll continue to build a strong future, together.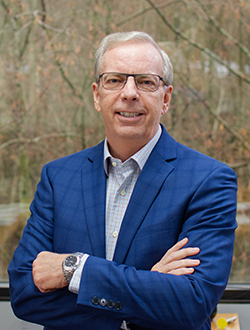 From Our Executive Director & CEO
Welcome to the end of another year. We have now survived two years of a world pandemic that most thought would last only a few weeks or months. Our expectations have both given us hope and sometimes led to disappointment. We have collectively learned to let go of the things we cannot control and hopefully come to understand ourselves better.
I love the movie "Kung Fu Panda"—okay, this might be considered a children's movie, but let's face it, I'm still a child. I love this movie because it has some wonderful quotes that teach us about life. The following quote has really resonated with me, especially this last year, so I thought I'd share it with you. In the movie, Master Oogway is visiting with Po in a scene where Po is down on himself and wants to give up. Po states, "Maybe I should just quit and go back to making noodles." Master Oogway responds, "Quit, don't quit? Noodles, don't noodles? You are too concerned about what was and what will be. There is a saying: 'Yesterday is history, tomorrow is a mystery, but today is a gift. That is why it is called the present.'"
I hope you know that each day WSIPC staff renew their energy to be in the 'present' as we enjoy our mission of serving you and helping you serve your students. We love what we do and who we serve (you) and this past year has given us much to love. Thank you for staying engaged with our WSIPC Cooperative and helping us find ways to improve our products and services for you.
~ Marty Daybell

---
Migration to the Qmlativ Product Suite
The Qmlativ Education Management System, the next evolution of Skyward software, is the epitome of a better SIS and ERP experience. It's built to leverage the latest technology to support emerging trends in education, both now and into the future. Its clean, customizable interface and personalized dashboards ensure that you have the data you need when and how you need it. Qmlativ is built on a SQL-based platform featuring a revolutionary user experience that encompasses everything from desktop to mobile environments.



School Staff Course Recommendations
This update, from the Product Ideas Portal, gives teachers the ability to enter student course recommendations for the following year. Teachers can submit recommendations for their entire class or for individual students.

Skylert Interface Integration
(only available for districts that own a Skylert license)
Guardians can now use Family Access to update their notification preferences and the contact information used by WSIPC's Purchasing Program partner Intrado/School Messenger. There's also a new read-only screen in Administrative Access that displays guardians' Skylert information.

Conference Scheduling Updates
Administrators can now create time slots for conferences, like parent/teacher conferences. When guardians log in to Family Access and view their live tiles, they can then view the time slots available and sign up for a time that fits their schedule. They can even choose the method by which they'll conduct the conference.

Local Assessment Layouts and Templates
Before this update, you could only import test/assessment scores into state or federal assessments provided by Skyward. Now you can create local assessment layouts and templates to track students' scores.

Food Service by Homeroom Entries
Admin users can now pull up a homeroom roster and enter purchases for those students in the homeroom. This option is also available for homeroom teachers so they can enter purchases directly from their classrooms. This new feature is especially useful for schools that are not using traditional lunch lines due to the pandemic.




Guardian-Entered Absence Requests
Guardians can now enter absence requests through Family Access. Once an absence request is entered, it appears on the Guardian-Entered Request screen in Administrative Access, where it can be marked as excused or unexcused.

Streamlined Journal Entries
Journal Entries are now easier than ever! Inspired by a request submitted in the Product Ideas Portal, the new user interface slims down data entry to just the most commonly used fields. We hope this new process saves you time!

Automatic Employee Lunches
Tired of tracking employee lunch breaks? Now district staff can use the Time Tracking module to automatically insert a lunch in the middle of their day, or at a fixed time each day. Searching for the closest readers to manually clock out for lunch can officially be a thing of the past!

Simple Calculations in Data Mining
This enhancement makes it possible to do simple math calculations as part of our Data Mining reports. Here's an example: You could subtract this year's total expenditures from last year's total expenditures to see the difference in your district's spending from an account.

Location-Based Approvals
Qmlativ now supports location-based approvals. If an employee works in multiple buildings, you can build out an approval hierarchy for each position distribution for that employee.

Parallel Edits within Calculated Payroll
Looking to save time on payroll? Multiple staff members can now make edits on different employees' records at the same time!




For years, WSIPC's High School and Beyond planning tool has provided our districts using Skyward SMS 2.0 with the tools their students need to plan their future and create a clear and concise strategy towards accomplishing their educational goals.

In August 2021, WSIPC opened High School and Beyond for Qmlativ (HSB for Qmlativ) as a soft launch to a small group of early adopter districts. ESD 101, 113, and 189 have been helping us work with these early adopter districts, to get them up and running with HSB for Qmlativ. These districts will review all aspects of HSB for Qmlativ and will provide feedback to help us refine the final product for all our districts.

HSB for Qmlativ is a big deal! It has taken two years of hard work for our very small and agile Data Solutions team to make this happen, and we're excited to be moving forward with this new phase.